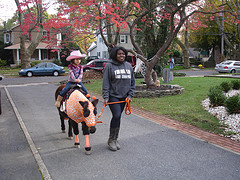 If you ever wondered what to expect after booking a pony party, wonder no more. When renting one or more of our ponies, it's as easy as 1-2-3.  Our ponies will arrive at your home clean and ready for riding.  We will typically arrive about 15 minutes ahead of schedule.
Our first task is picking the best location to conduct the pony rides.  It will be in a location that does not have a lot of toys or game equipment around and usually a place that is open enough for the ponies to get around.  Don't worry if you have a small back yard, you can still have a pony at your birthday party.  We can conduct pony rides in driveways, streets, or wooded areas.  Our ponies are well adapted to most residential and city environments.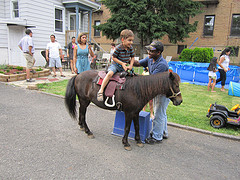 After picking the riding location, we have a "step-up" that helps the child climb on top of the pony. We will also assist the child if they cannot climb in the saddle themselves. Once they are in and holding onto the horn, we'll take the child for a pony ride in a circle or the planned riding path. If the child is three or younger, we'll request that a parent walk beside him (her) or one of our helpers, when available.  At this time parents can take pictures while the kids are riding or we can take a stationary photo prior to starting the pony ride.
We also allow the kids to feed our ponies carrots, if you have carrots available. The children enjoy interacting with the ponies and generally would want to feed and pet them as well.
Last but not least, if the pony happens to have a "yuck" moment (poopie), we'll clean that up right away with our poop scooper and bucket. We will leave your yard as clean as possible.
Typically if you are having a party with 15 kids or less, you will only need 1 pony for 1 hour. If you have 20 kids or more, you should probably book 2 ponies for 1 hour. That 15-20 kids range can go either way. One hour is enough time to have all the kids ride at least twice but usually 3 or more for the kids that just can't get enough. By this time the line has dwindled down and the pony lovers just keep riding! If you are conducting a very large party or some type of festival or event, our ponies are available to rent for multiple hours.