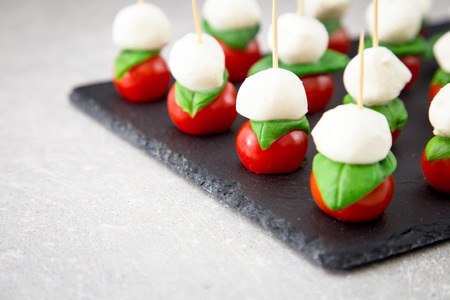 Planning a party can be a difficult process. Between narrowing down the guest list, sending out invitations, and decorating your space, the thought of planning a menu is exhausting.
If you're planning a party and you're hoping to offer cuisine that will impress guests of all ages, consider serving finger foods.
Planning an entire dinner is time consuming, and if people don't have a chance to sit down and eat, it's a waste of money and effort. Instead, consider planning fingers foods to give guests variety and options.
Mini Black Bean and Cheese Enchiladas
Mexican themed food is a popular party food choice. It's typically affordable and simple to make, and most people love it! Instead of creating a large quesadilla for each person in attendance, serve mini black bean and cheese enchiladas instead. You can easily bake tortillas into a muffin pan, top each one a bit differently, and serve.
Sweet Potato Bites
If you're looking to serve something savory, these sweet potato bites will satisfy all of your needs. Topped with avocado and bacon, these are a colorful comfort food that everyone will love. Instead of putting out a bowl of chips, serve these easy to eat bites instead. They require a bit of preparation, but slice the potatoes and bacon beforehand to save time!
Little Chicken and Waffles
If you're looking for an appetizer that will be the go-to dish for most guests, consider serving a small version of the southern dish "chicken n' waffles."  These look decadent, but can be easily made with frozen chicken fingers and waffles, making it a simple and affordable dish. Purchase a local honey and drizzle it over the top to make a sticky, sweet finger food. (Make sure to have wet wipes on hand!)
 Caprese Salad Sticks
If you're looking for a healthy, vegetarian finger food, consider serving these caprese salad sticks. These are easily made with cherry tomatoes, fresh mozzarella balls, and basil leaves. You simply stick all three ingredients onto a toothpick, and drizzle a balsamic based dressing over top. This fresh finger food is light, easy to serve, and low-calorie.
Keep in mind that parties are not complete without plenty of party activities such as pony rides, bounce houses, and face painting. Contact New Joy Farm today to get started!