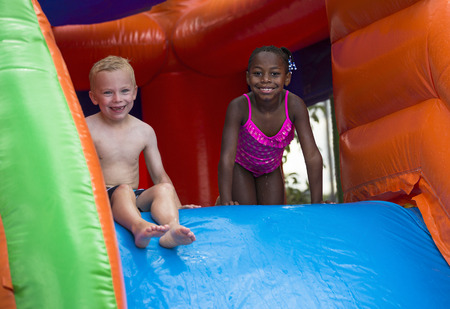 Kids love cake and presents, but they also love playing! So, what are some fun and unique games and activities to keep them occupied at a party?
Pass the Parcel
To prepare this game, wrap a prize with wrapping paper. Include layers of wrapping paper and a smaller prize within each layer. Once you've prepared the parcel, have all the kids sit in a circle and pass it around to music. When the music stops, the person holding the parcel unwraps a layer, and this continues until all of the layers are removed. You can also fill a box with prizes and have kids choose from the box when it's their turn.
Limbo
Limbo is a great game for getting everyone involved. Start off with the pole at a normal height and have a competition to see who can go the lowest! Consider playing kid-friendly party music in the background to enhance the fun factor.
Bounce House
Bounce houses are a great way to keep kids occupied and get them to expend their energy from all the sugar and excitement! Here at New Joy Farm Entertainment we have bounce house rentals in a variety of styles and sizes that will keep kids jumping for hours!
Pony rides
Kids of all ages love pony rides, and they won't be satisfied with just one! Our pony rides for parties are safe and carefully monitored to ensure every child has a wonderful, memorable experience.
If you would like to learn more about event entertainment rentals, call New Joy Farm Entertainment at 908-376-9375 to discuss bookings and reserve your date.