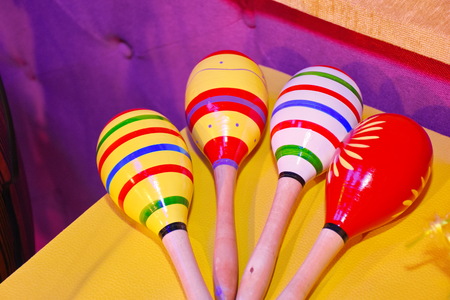 Cinco de Mayo has become a day to celebrate Mexican culture and cuisine with a big party! The holiday celebrates Mexico winning against the French at the Battle of Puebla on May 5th, 1986. According to USA Today, Cinco de Mayo has become more of an American holiday than a Mexican one, so how will you celebrate?
If you're planning a kid-friendly fiesta, read these activities for a Cinco de Mayo party:
Sombrero Dance Relay
This is a simple, cheap, and fun activity for children of all ages! To begin, split up the kids into two equal groups and set up two sombreros a fair distance away, one for each group.
On your mark, get set, go! Have one child from each team run to the sombrero, do a silly dance around the hat, then run back as fast as they can. The first team to have all players complete the relay wins! To spice things up, you can give the winning team a surprise, like a box of "Hot Tamales" or colorful maracas.
Peso Toss
This game is similar to the beanbag toss game, but it has a Mexican twist! In order to play, set up five sombreros in a straight line. Label the hats with a point value, with values going up as you get further away from the starting line. Next, hand out three Mexican pesos to each child. The kids can take turns tossing the pesos into the sombreros and the child with the most points at the end wins!
Pony Rides
What better way to celebrate Cinco de Mayo than with pony rides? Have the kids dress up in bright colorful clothes and give them sombreros to wear that are left over from the previous games. The kids are sure to have an unforgettable experience at your Cinco de Mayo party with our pony rides!
At New Joy Farm Entertainment, we offer fun party rentals for any event. From pony rides to face painting to bounce houses and more, we bring our love of animals and country lifestyle to kids' parties throughout the Tristate region. Contact us today by calling 908-376-9375 to book your party. Happy Cinco de Mayo!