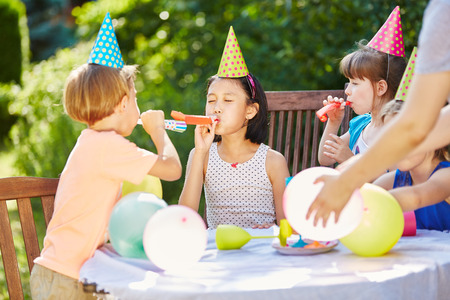 Chances are, you and your fellow parents are tired of spending time and money you don't have shopping for party gifts that the child of honor might not even play with. As more and more Americans tune into the value of enjoying experiences instead of accumulating objects, giftless birthday parties are becoming more and more of a trend.
Step 1: Start with the 1st birthday party
If you can, start throwing giftless parties for your child as early as possible, so that he or she gets used to the idea.
Step 2: Write giftless party on the invitations
Make sure your invitations specify that your party is giftless. Otherwise, some guests might bring gifts, making those who didn't bring one feel awkward.
Step 3: Consider charity giving
Some guests might feel uncomfortable coming empty-handed. Give guests the option of donating to a favorite charity in the birthday boy or girl's name.
Step 4: Pool your resources
Another idea is to have guests contribute towards a birthday fund, which can pay for a larger experience, like a trip.
Step 5: Emphasize the experience
A fun party is a gift in and of itself – make sure to emphasize this to your child.
Experiences make better gifts than any material presents. Make your child's birthday a happy one with activities like pony rides, bounce houses and face painting, available through New Joy Entertainment. If you're in the Tristate area, give us a call at 908-376-9375 to find out more and book your party date today!